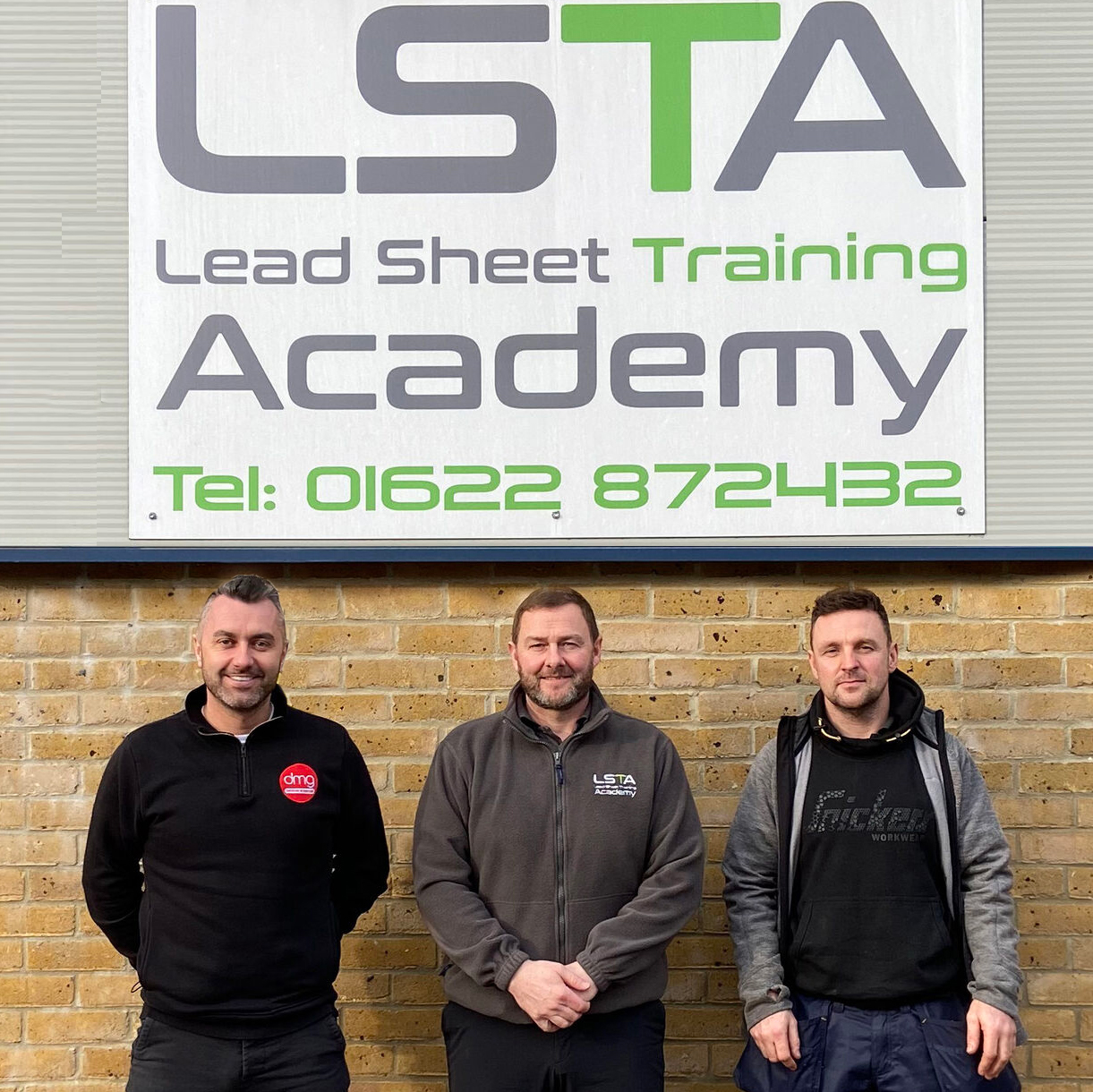 We spent a great afternoon yesterday at the Lead Sheet Training Academy catching up with LSTA Director of Training & Operations John Lewis, plus meeting Craig Mccamley, Owner of CJM Leadwork Specialists, and finally speaking to Darren McGhee of DMG Services Group Ltd in the same room rather than over Zoom!
Darren and Craig had made the trip from Scotland to the LSTA facility in Tonbridge, Kent, to continue their preparations on the path to becoming an LSTA satellite training facility, and offering the City & Guilds accredited Basic Leadwork Course at the DMG Academy of Roofing in Bellshill, Scotland.
Discussing the very real requirement for the leadwork course offering in Scotland, Darren explained: "With this, we just see a great opportunity to help roofing and raise standards in leadwork in general, but to help it particularly in Scotland – if we offer the Basic courses, we capture the attention of the participants and we can send them on for the Intermediate and Advanced courses, so we're working with the LSTA to raise standards and promote best practice in the industry."
Craig, who will carry out the courses at DMG Academy of Roofing, echoed the requirement to train the next generation in Scotland and raise standards: "We're not bringing enough new guys through – there's a severe skills shortage in Scotland, especially when it comes to leadwork – a lot of guys are installing lead but not doing it correctly – obviously guys up north coming down south to train isn't ideal, it's a long journey, hence the reason we're getting this up and running in Scotland."
John explained the importance of taking the provision of leadwork training throughout the UK to raise standards and meet the current demand, but also ensuring the trainers and facilities meet the needs of roofers: "People just think they can pick up a bit of lead and bash it, but you can't – there's a certain way of doing things. For us, it's all about quality provision and making sure that the provision is in the areas that it's needed – it's about positioning ourselves where we know there's demand, but we don't take satellite centres on lightly – we've been asked many times if people can become a satellite centre and I've refused, because of the standard of the facilities.
"Hence the reason I approached Darren – because I knew he had set up an academy, they have great premises, and that is all part of it for me – making sure the environment's right for the people coming in."
We discussed so much more on skills, training, funding, standards on projects and attracting the next generation of roofers, so keep an eye out for updates on www.total-contractor.co.uk and in the March print issue!
Pictured above: l-r: Darren McGhee, John Lewis and Craig Mccamley.